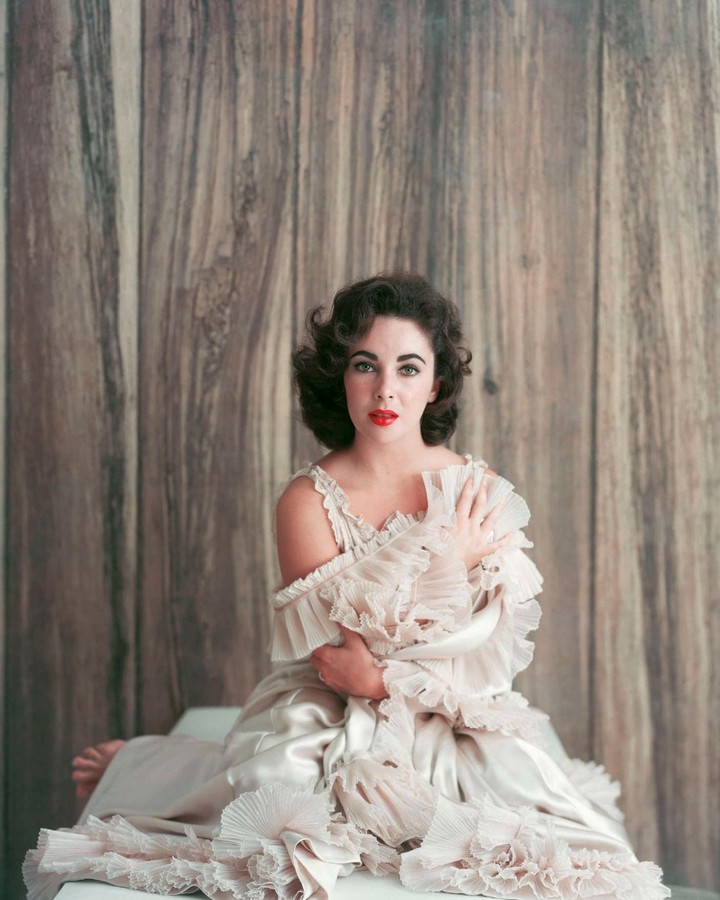 Elizabeth Taylor's Last Walk Down the Aisle
Elizabeth Taylor's wedding to Larry Fortensky — her eighth and final marriage — was a spectacle even by Hollywood's standards. On October 6, 1991, close to two hundred high-profile guests watched the couple say "yes" to Forever under a white gazebo at Michael Jackson's infamous Neverland Ranch. She shared a loving friendship with the King of Pop, who happily offered to host the wedding at his ranch in the Santa Ynez Valley. Hollywood's biggest star and music's greatest legend being together in one place was enough reason for the dozens of helicopters packed with photographers. Still, Elizabeth was marrying one of her most unusual choices in husbands, and everyone wanted a piece of it.
A construction worker twenty years her junior, Larry Fortensky caught Elizabeth's eye during her second visit to the Betty Ford Clinic in 1988. He had been arrested several times for driving while intoxicated and went to the facility at the age of 36 on his Teamsters Union insurance.
"We were at our most vulnerable." - Elizabeth Taylor
"They knock you down in therapy, kick the shit out of you, then give you the tools to build yourself up," says Elizabeth of their time in Betty Ford. "Larry felt very protective toward me. He told me later that there were times he wanted to kill the counselor." 
Elizabeth was attracted to his normalcy – a luxury she was rarely afforded. Larry grew up in a working-class family in Stanton, California with six younger siblings. He didn't finish high school, was twice divorced, and had never been on a plane before he met Elizabeth. His construction career was the cherry on top of the mundane life Elizabeth would whisk him away from – the extravagant wedding he could've done without was just the start. 
For Elizabeth, the celebration of their union was a mix of pleasure and philanthropy. She started The Elizabeth Taylor AIDS Foundation (ETAF) with money she received from selling exclusive wedding photos to People magazine for $1 million. Her guests were welcomed with a huge sign that read: "NO CAMERAS," but that didn't stop the helicopters circling the sky from trying. 
Elizabeth was an hour late, one of the only predictable things about her, and wore a $25,000 pale yellow Valentino gown. Her 96-year-old mother, Sara, sat in the front row while Elizabeth was escorted down the aisle by Jackson on one side and her son, Michael Wilding Jr. on the other – dear friend and hair stylist, José Eber, was the best man.
One of the things Elizabeth respected most about Larry was that he kept his construction job after they were married. Being the supportive wife that she was in every marriage, Elizabeth would wake up early to have breakfast with him, make sure his lunch was ready, and kiss him goodbye. Larry did his best to support Elizabeth in her complicated world of celebrity, but it slowly overwhelmed him to a point where his protectiveness consumed their relationship.
"Larry was totally freaked out at first because there's so much larceny in my world," she later says of their time together. "Some of it's petty and some grand. The petty you pass, the grand theft you do something about." And for that her husband was invaluable. "Larry sees through the world of bullshit I live in," she explained. "He's very protective." Despite the love and warmth that settled in at the onset of their marriage, Larry started to lose himself once he stopped working, marking the beginning of the end.
Elizabeth's closest friends were supportive, but ultimately unimpressed with the stoic construction worker turned house husband, and found him to be incompatible with someone as vibrant as Elizabeth. There was an expiration date on their marriage that everyone was watchful of and in time, Larry started drinking again, remained unshaven, and wore a dirty bathrobe around the house. 
They said their goodbyes as husband and wife in 1996, but Elizabeth never stopped caring for him. She had a feeling he would need financial help, so she generously included him in her estate documents, and they continued to speak a couple of times a month after their divorce. In 2010, she wrote him a letter that read, "Dearest Larry, I think of you always with great affection and caring. Take care of yourself. You are very dear to me and always will be. You're a part of my life that cannot be carved out nor do I ever wish it to be and I see that you still remember me. That touches me to no end. Love you, Babe, Elizabeth."
When love is kindled, with time it can fade, but it most certainly never dies – at least not when Elizabeth Taylor's heart is involved.