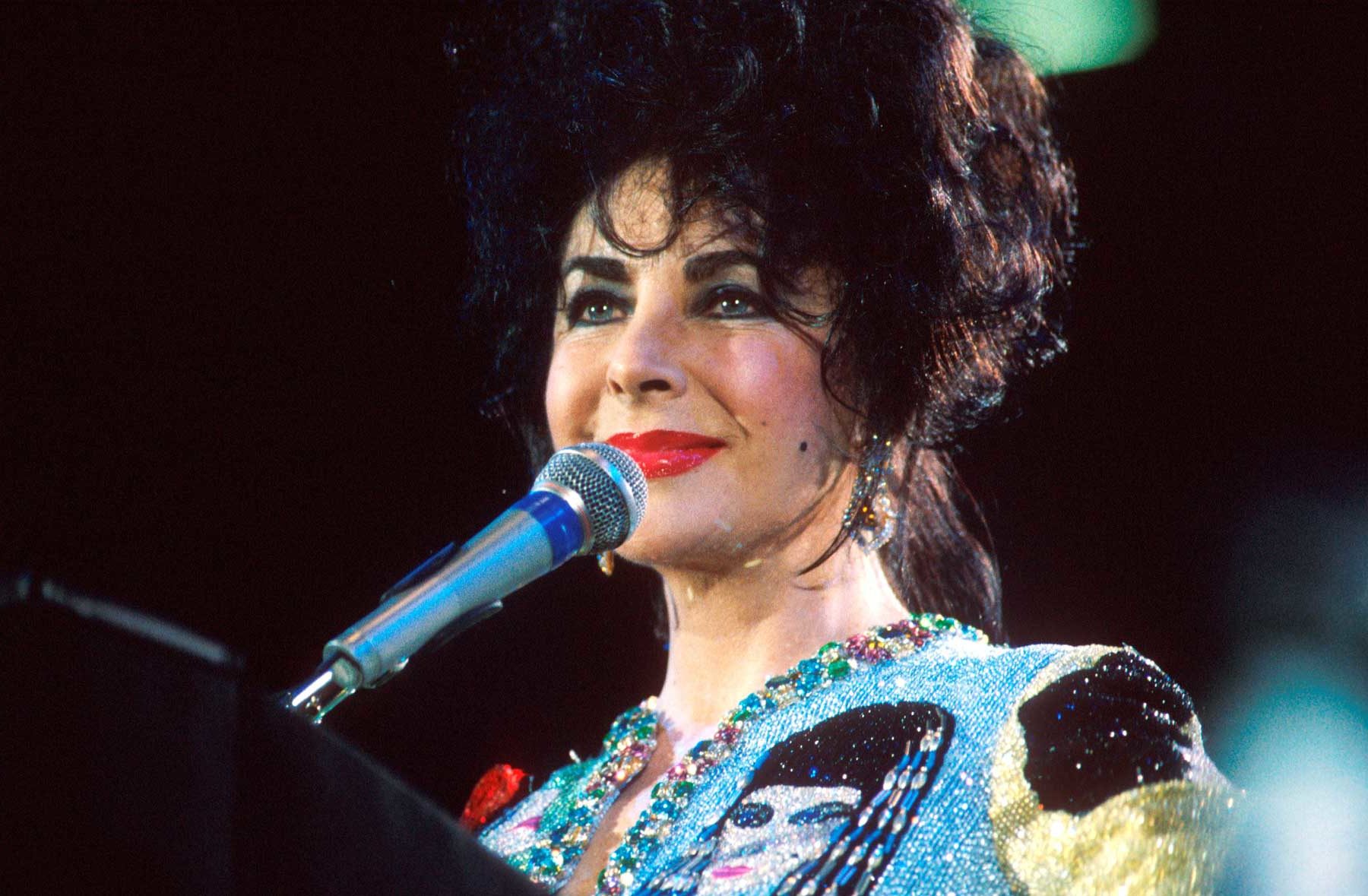 Pride Month: A Reflection on Elizabeth Taylor & the LGBTQ+ Community
LGBTQ+ Pride Month occurs every June in the United States. It was originally established to commemorate the anniversary of the Stonewall riots, which occurred in June 1969. As we near the end of this year's Pride Month, it is important for us to reflect on Elizabeth Taylor's deep and unique relationship with the LGBTQ+ community.
Elizabeth's close relationships with gay men throughout her life, and her passionate activism for equal treatment toward the LGBTQ+ community, have redefined what it means to be deemed a "gay icon." The 2011 article by British newspaper The Guardian, entitled "Elizabeth Taylor: A New Gay Icon," notes that, "No longer was it enough to be a woman with whom gay men retained a bass-note of empathy, the kind of glamour/tragedy axis that Judy Garland immortalized. Her [Elizabeth's] feeling for camp was not an affectation or strategic marketing device, but something more innate and intuitive. Beneath the artifice, there was a human heart that gay men just adored, quite unequivocally, and with ample reason, and vice versa." As an article in Britain's The Times puts it, "Of course, her high-glam roles were often high-camp, but it was her offscreen performances that truly earned her elevation to gay icon."
Elizabeth had always been drawn to the company of gay men, perhaps because, in her younger days, such intimate friendships were the only way that she, as the object of so much desire, could relax in the company of men. At the 2000 Gay & Lesbian Alliance Against Defamation (GLAAD) Media Awards, Elizabeth said, "All of my life I've spent a lot of time with gay men - Montgomery Clift, Jimmy Dean, Rock Hudson - who were my colleagues, coworkers, confidantes, my closest friends, but I never thought of who they slept with! They were just the people I loved. I could never understand why they couldn't be afforded the same rights and protections as all of the rest of us." Gay rights and marriage equality were also causes that she passionately supported and never hesitated to trumpet.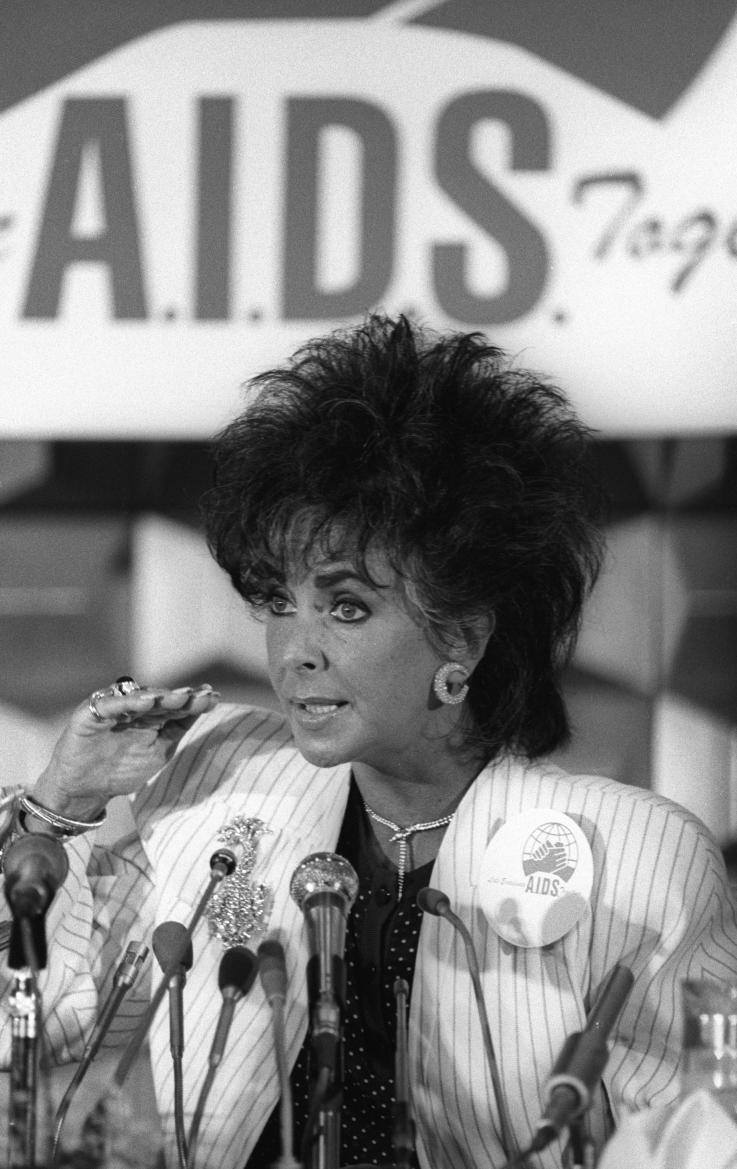 Elizabeth is recognized the world over as being at the forefront of gay iconography, not only for her incredible glamour or iconic film roles, but also forher activism. She spent decades championing the fight against HIV/AIDS and the stigmas, inequalities and societal injustices endured by the LGBTQ+ community.
In 1985, Elizabeth agreed to host the first ever AIDS fundraising dinner, for an organization called AIDS Project Los Angeles (APLA). While organizing this event, she found out that her close friend and Giant co-star, Rock Hudson, had been diagnosed with the disease. Elizabeth later said that, although she had planned the dinner to raise both funds and awareness for the fight against HIV/AIDS, she felt that she was capable of doing even more. With reinforced determination, she spent the remainder of 1985 working with Dr. Michael Gottlieb and Dr. Mathilde Krim to co-found the Foundation for AIDS Research (now amfAR), in order to help develop life-saving HIV/AIDS treatments, and, ultimately, to find a cure.
The following year, in 1986, as the world saw a nearly total lack of response to the epidemic by the U.S. government, Elizabeth testified before Congress to advocate for additional HIV/AIDS funding and research. "For her to testify before Congress as early as she did was really remarkable," said John Scott, the former Executive Director of the Elton John AIDS Foundation. She returned to testify at committee hearings on Capitol Hill two more times over the next few years. Then, in 1991, she founded The Elizabeth Taylor AIDS Foundation (ETAF) in order to provide direct care to people living with and affected by HIV/AIDS.
Elizabeth became one of the most outspoken public figures during the earliest years of the AIDS crisis, fighting fear and prejudice with reason and compassion. Indeed, Elizabeth also became a heroine to the gay community for criticizing the U.S. government's slow response to the crisis. At that time, HIV/AIDS was viewed by many in society as a "gay disease" or even "gay cancer," which gave an excuse to those with homophobic proclivities to turn their backs and refuse to help. In 2007, Elizabeth spoke with Interview Magazine and slammed those who claimed that the gay community deserved AIDS, saying that it was that vitriol that motivated her to get even more involved. "If it weren't for homosexuals there would be no culture," she said. "We can trace that back thousands of years. So many of the great musicians, the great painters were homosexual. Without their input it would be an entirely different, flat world. To see their heritage, what they have given the world, be desecrated by people saying, 'Oh, AIDS is probably what they deserve' or 'it's probably God's way of weeding the dreadful people out,' makes me so irate."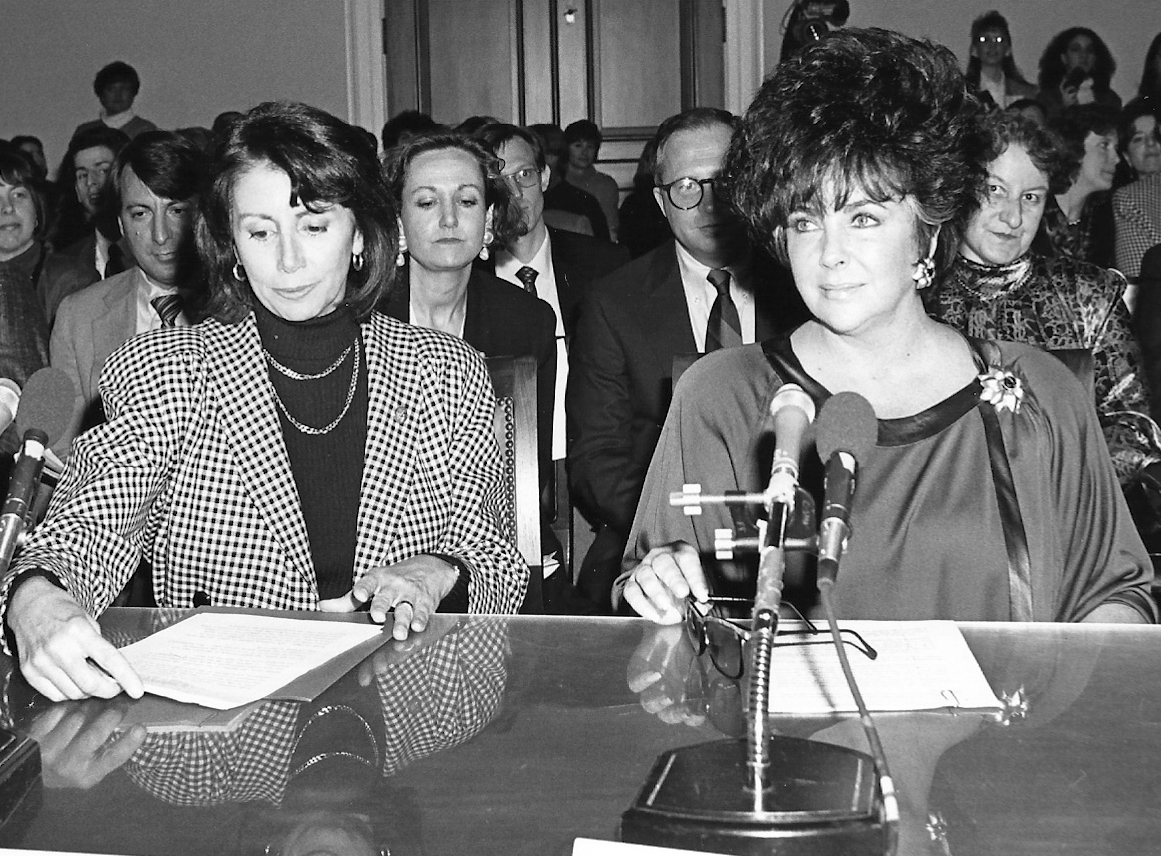 Elizabeth understood that her platform, as the world's most famous woman at the time, gave her the ability to speak up for a community that was otherwise being pushed to the sidelines while suffering from an overwhelming health crisis. She understood how to harness the power of her celebrity and use her voice to amplify the voices of those not being heard. The Guardian once wrote, "The traction that her star power lent to this cause turned her from a woman who naturally empathized with both the fragility and duality of gay men's political status in the US to a notable force in reversing it."
An article in Vanity Fair quoted one AIDS activist as saying, "Elizabeth Taylor was one of the few things we had that we could leverage for support. She was deeply committed. She knew what she brought to the table." Elizabeth carved her own path as she tirelessly advocated for the LGBTQ+ community. The New York Times wrote, "There have been other gay touchstones — Judy Garland, Bette Davis, Barbra Streisand, Cher, Madonna — but Elizabeth Taylor perhaps eclipsed all of them, at least for a certain generation, with her outspoken efforts to raise the profile of AIDS at a time when people still referred to it as 'the gay disease.'"
Later in her life, Elizabeth said, "I decided that with my name, I could open certain doors, that I was a commodity in myself — and I'm not talking as an actress. I could take the fame I'd resented and tried to get away from for so many years — but you can never get away from it — and use it to do some good. I wanted to retire, but the tabloids wouldn't let me. So I thought: If you're going to screw me over, I'll use you." Elizabeth had the compassion to recognize the social injustice and human suffering, the courage to stand up and act when no one else would, the conviction to follow through on what had to be done, and the confidence to know that she could make a real difference for a marginalized group of people that she had always celebrated.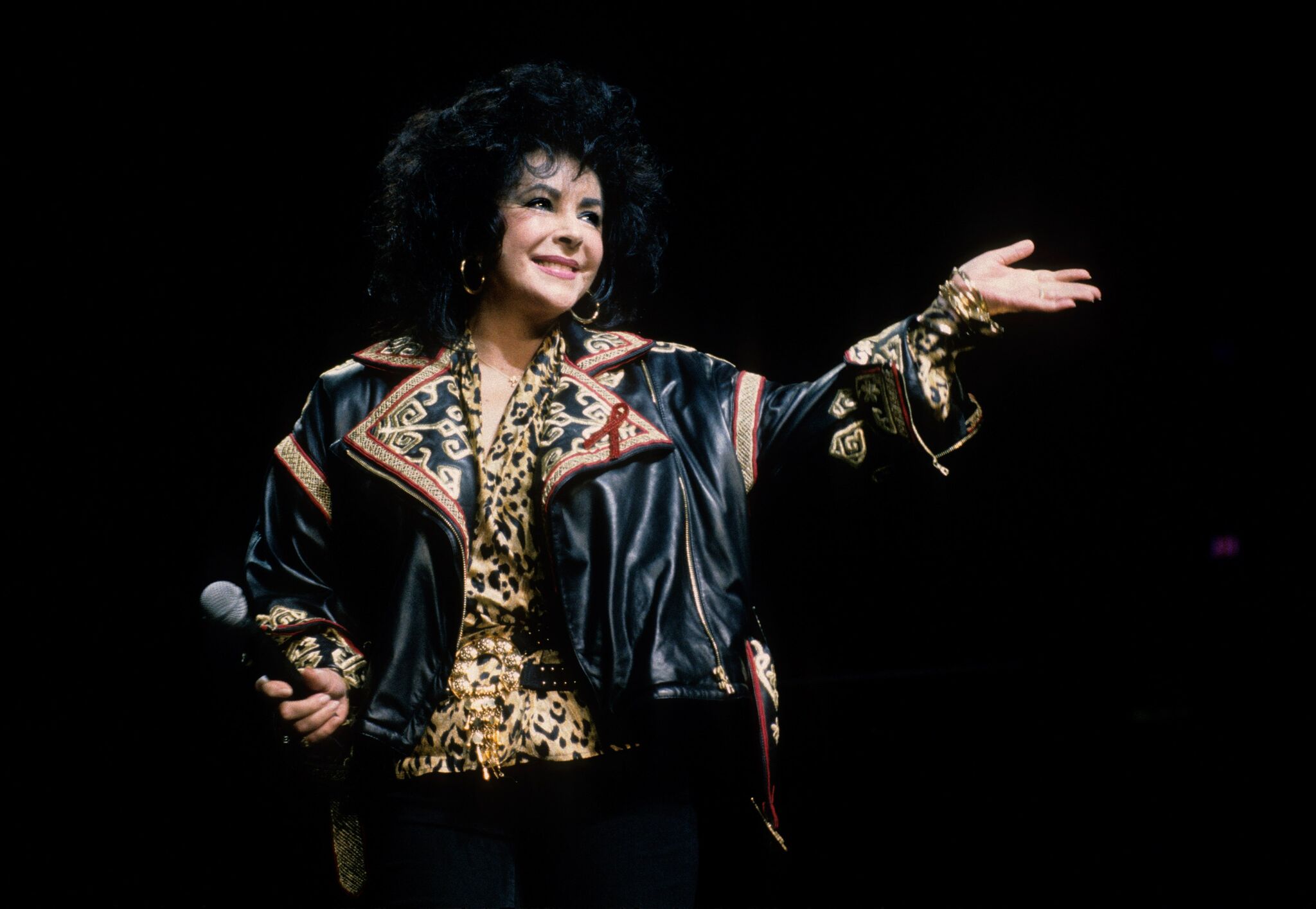 When Elizabeth passed away on March 23, 2011, the world reacted with shock and sadness as the news spread across the globe, headline by headline. Then-President of GLAAD, Jarrett Barrios, said, "Today, the lesbian, gay, bisexual and transgender community lost an extraordinary ally in the movement for full equality. At a time when so many living with HIV/AIDS were invisible, Elizabeth Taylor fearlessly raised her voice to speak out against injustice." He continues, "It's easy to forget just how much fear there was 25 years ago and how big a star she was. In a way that was typical of her, she used her fame to lever millions of dollars to support and change attitudes towards people with HIV. She was the pattern card of how stars can use their celebrity for good." In response to Elizabeth's passing, amfAR, the international nonprofit that she had co-founded, released a statement that read, in part, "She was among the first to speak out on behalf of people living with HIV when others reacted with fear and often outright hostility. For 25 years, Elizabeth has been a passionate advocate of AIDS research, treatment and care. She has testified eloquently on Capitol Hill, while raising millions of dollars for amfAR." The statement adds, "She leaves a monumental legacy that has improved and extended millions of lives and will enrich countless more for generations to come."
Elizabeth once said, "I hope with all of my heart that in some way I have made a difference in the lives of people with AIDS. I want that to be my legacy." She wanted to help create a world where everyone would be treated with the respect and dignity that we all deserve. The Human Rights Campaign President Joe Solmonese said, "Ms. Taylor was a true ally to the LGBT (lesbian, gay, bisexual and transgender) community." For her activism and humanitarianism, she was awarded the French Legion of Honor, the Jean Hersholt Humanitarian Award from the Academy of Motion Picture Arts and Sciences, the title of Dame of the British Empire, and the Presidential Citizens Medal by President Bill Clinton. Additionally, Elizabeth received the Vanguard Award at the 11th Annual GLAAD Media Awards for advancing the cause of equality and for her work to increase the visibility and understanding of the LGBTQ+ community. She said in her acceptance speech, "There is no gay agenda; it's a human agenda. Why shouldn't gay people be able to live as open and freely as everybody else? What it comes down to, ultimately, is love. How can anything bad come out of love? The bad stuff comes out of mistrust, misunderstanding and, God knows, from hate and from ignorance." Elizabeth ended her speech with the powerful words, "Long live love!"