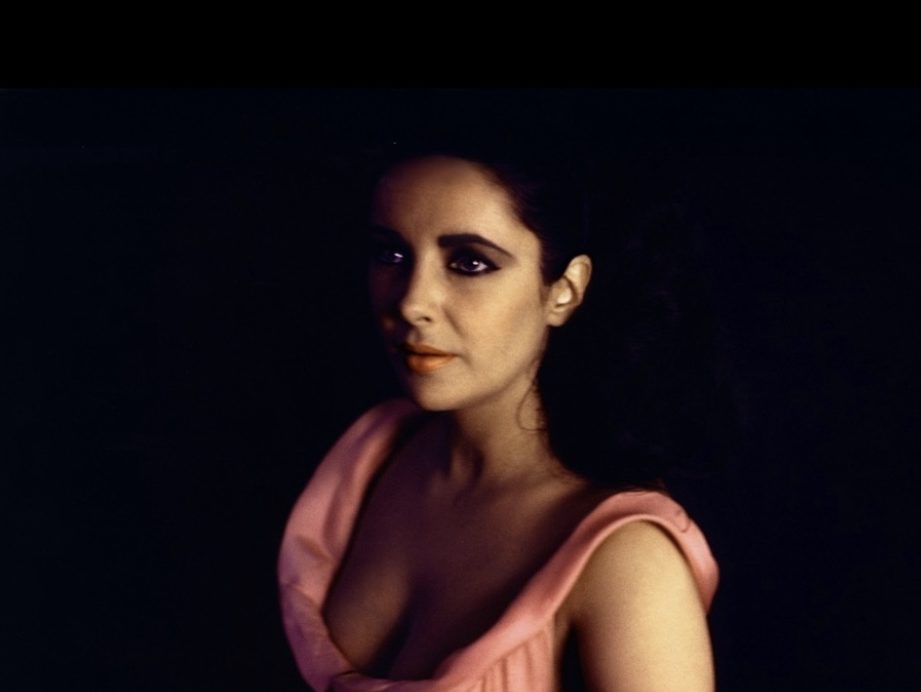 Step Inside The Elizabeth Taylor Archive
Appropriately located near Hollywood, CA, there is a magical place dedicated to all things Elizabeth Taylor. A nondescript exterior obscures its association with the legendary beauty. Drawn shades protect its treasures. Yet, inside it hums with the energy of an extraordinary life.
The Elizabeth Taylor Archive was officially established in 2015, four years after Elizabeth's passing. But, the Herculean task of documenting her life for posterity began much earlier. Elizabeth's mother, Sara, was her original archivist, preserving her daughter's childhood drawings, holiday cards, letters, and school papers.
Over the years, Elizabeth's business managers, publicists, lawyers, and staff took the baton from Sara, continuing her mission to collect important papers, photos, and press highlights. Barbara Berkowitz, Elizabeth's former lawyer and current Co-Trustee of her estate, explains this impetus to capture a bygone era, "Elizabeth's place in the world is really important. Everyone is so interested in Hollywood icons. We don't have them anymore. The studio system is gone. It can't be recreated, and people are fascinated by it."

Today, The Archive exists to tell the story of Elizabeth's life through her words and possessions, according to archivist Mitch Erzinger. These items allow people, especially younger generations, to observe, firsthand, the qualities that made the world fall in love with Elizabeth.
For example, Elizabeth's early creativity is on display in a childhood drawing she made after watching the 1940 Disney movie, Fantasia. Candid photographs from her home display Elizabeth's sense of humor. We can see her love of people expressed in a school essay that praises the film crews she worked with and her appreciation when people would stop her on the street to talk.
Elizabeth was never one-dimensional, and her many complex facets set her archive apart. "She's not just a movie star or businesswoman or humanitarian," Mitch notes. "Her archive is uniquely positioned because it encompasses all of these different areas of her life." The Archive's breadth also illuminates that Elizabeth's life is inextricably linked to significant moments from the past century. In many ways, the story of Elizabeth is also the story of the last half of the 20th century.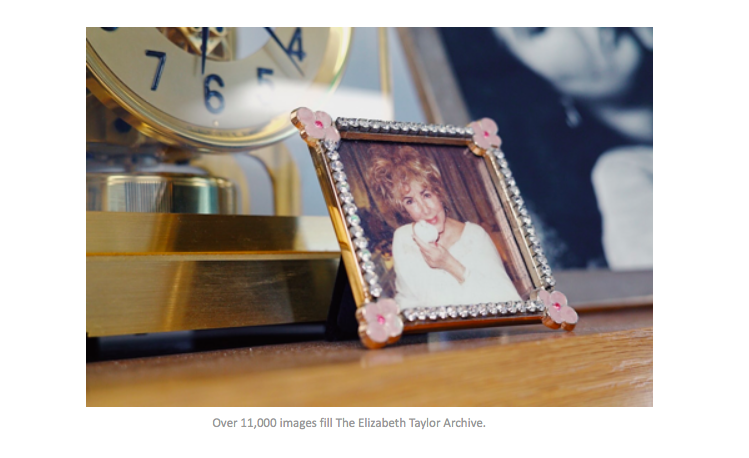 Perusing the archival images of Elizabeth in character and her acting honors recalls the power of Old Hollywood as well as its remarkable fall. A quick glance at tabloid and press clippings reminds us that Elizabeth's romantic relationships ushered in modern celebrity culture and gave birth to paparazzi as we know them today. The current project to organize Elizabeth's accessories and clothing (yes, including some of her wedding dresses) highlights fashion trends over many decades. Scrapbooks filled with memories from the launch events of her iconic fragrance, White Diamonds, show how Elizabeth paved the way for today's celebrity cosmetics moguls, such as Kylie Jenner and Rihanna.
Most importantly, speeches, transcripts, and press coverage from Elizabeth's work as an HIV/AIDS activist, co-founder of amfAR, and founder of The Elizabeth Taylor AIDS Foundation (ETAF) document her unwavering dedication to one of the most devastating public health crises and human rights issues of our time.
Through her rich and varied experiences, Elizabeth left an indelible mark on history and culture. As Quinn Tivey, her grandson and Co-Trustee of her estate, says, "She was one of the most defining individuals in popular culture of the modern era. She changed Hollywood. She changed the fragrance industry. She changed the way that celebrities perform activism. As such, it's important to categorize, organize, and investigate the details that made up her life, and The Archive is a fantastic record of that. It provides insights into compelling pieces of history."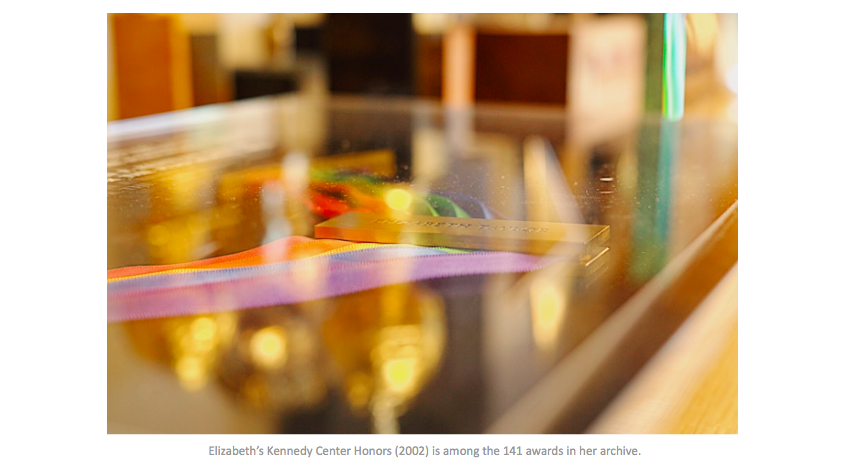 As robust as The Archive is today, it is continually expanding its impressive collection of materials from Elizabeth's life. This process includes identifying outside sources willing to donate items to The Archive, in order to help gather a complete picture of who Elizabeth Taylor truly was. "Because she was so famous, so photographed, so written about, it's interesting to acquire new items and fill in the gaps," Mitch says. In addition to identifying sources for potential material acquisitions, The Elizabeth Taylor Archive is currently focused on completing its inventory of Elizabeth's fashion, digitizing a collection of press clipping albums centered on Elizabeth's HIV/AIDS activism, and providing support on upcoming projects for both House of Taylor and ETAF.
Elizabeth once said, "You have to watch not to build a shrine" in reference to her grief for Mike Todd. Yet, it seems Elizabeth needn't worry about a shrine of her own. The Elizabeth Taylor Archive may be hallowed ground, but the passion and purpose of its namesake feels very much alive, functioning not as a shrine, but as a means of documentation, investigation, and illumination.