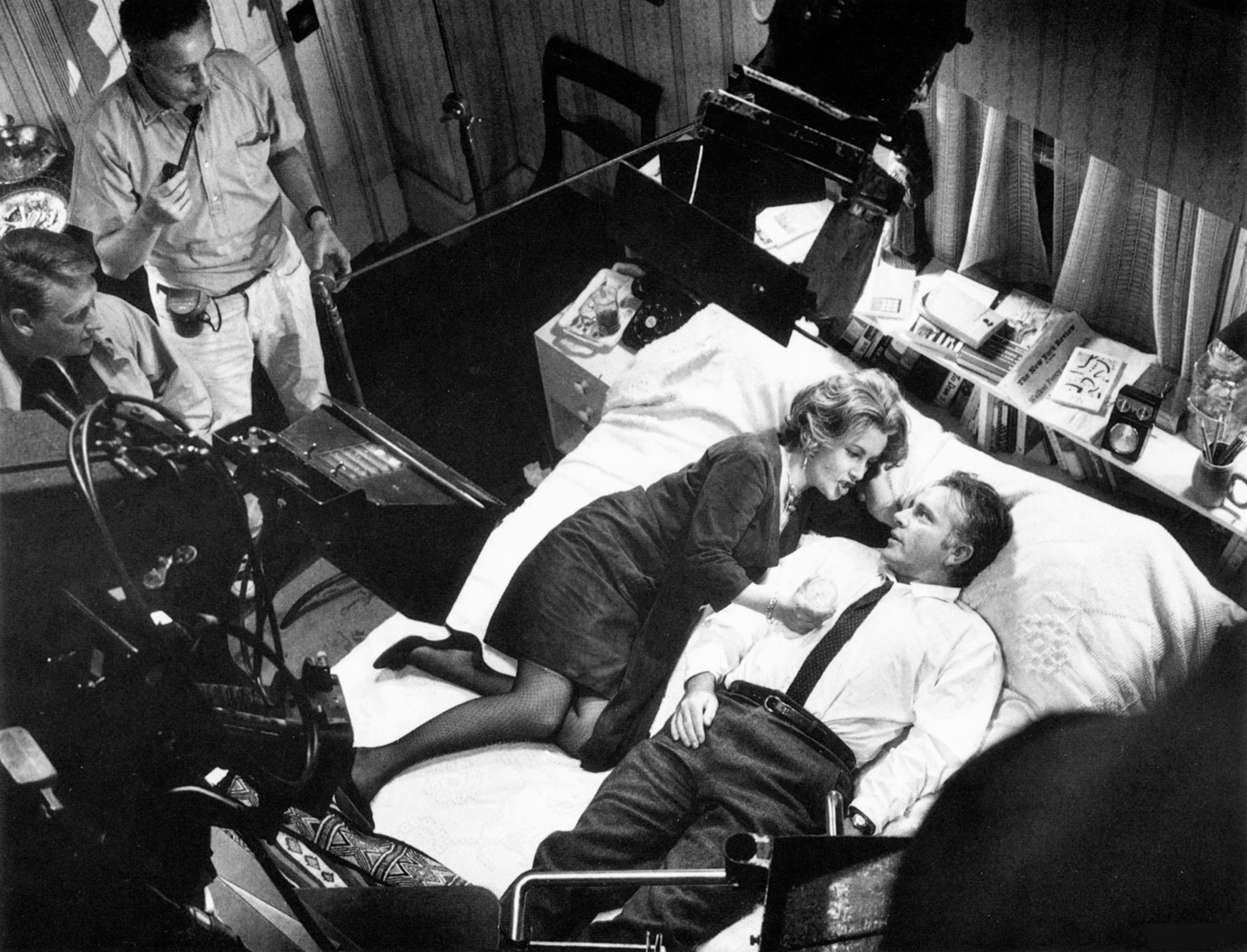 Adapting "Who's Afraid of Virginia Woolf?" for the Big Screen
When it was announced that Elizabeth Taylor would star as Martha in the film adaptation of Who's Afraid of Virginia Woolf? the world was abuzz with wonder. Fans could guess how Bette Davis or Patricia Neal might play the role, but how would gorgeous 32-year-old Elizabeth Taylor play 52-year-old Martha? This wasn't the first time Elizabeth had been underestimated – from standing up to Louis B. Mayer at only 15 to winning her first Oscar for BUtterfield 8, a project she had been attached to against her will – and she was now more determined than ever to come back swinging with the performance of a lifetime. Her then-husband Richard Burton, who would act as her co-star in the film, bluntly stated that she was too soft for the role, only fueling Elizabeth's fire.
The film's producer and screenwriter, Ernest Lehman, knew Elizabeth was an unorthodox choice but wanted her as the lead nonetheless. The script absorbed her to the point of sleeplessness – this was her chance to be accepted as a serious actress and put the typecasting days to bed. To take the unconventionality further, Elizabeth was granted the rare opportunity to choose her own director. She went with newcomer Mike Nichols, who had never directed a movie, despite directing three very successful stage comedies. Elizabeth instinctively knew that he was the right choice and, following her gut, took the chance. 
Mike openly discussed Elizabeth's intuitive talent and knowledge of film acting that her fellow stage actors were in awe of. Her natural skill and years of experience often went unnoticed because of her beauty, but on the set of Who's Afraid of Virginia Woolf? her inherent ability couldn't be denied. When editing and scoring the film, Nichols noticed that Elizabeth understood the material so well that she'd subconsciously leave room for the music between her lines, saying, "Her essential nature informed so much of the film."
Instructed by Nichols to gain twenty pounds ("one of the nicest orders she's ever been given"), take voice lessons, and wear prosthetics, it was time to transform herself into Martha. Nichols, only a year older than Elizabeth, had the task of going up against the Motion Picture Association of America (MPAA), which since 1930 had a Production Code in place to protect audiences from material deemed obscene. He fought to keep the script's profanity and sexual themes intact, as it informed the tense relationship central to the film. His choice to film in black and white also supported the raw, bitter feelings permeating the story, but this dying technique was also met with disfavor. He finally got the stamp of approval which marked a major turning point in eliminating the code and granting creators the artistic freedom so prevalent in film and television today. 
On-screen, Elizabeth proved she was more than a pretty face suitable for serious roles and challenged mainstream gender roles. Martha was loud, profane, and talked back to her husband – the opposite of the ladylike and agreeable image the world associated with the norm. Elizabeth's refusal to be dismissed laid the groundwork for modern procedures in the industry, opened up the female narrative, and provided opportunities for innovative ideas. The next time you hear, "You can't…" take a page from Elizabeth's book and show them how you will.
Who's Afraid of Virginia Woolf? is screening on April 23, 2023, at the David Geffen Theater for Oscar Sundays. Purchase your tickets for a chance to see one of Elizabeth's most impressive roles on the big screen.