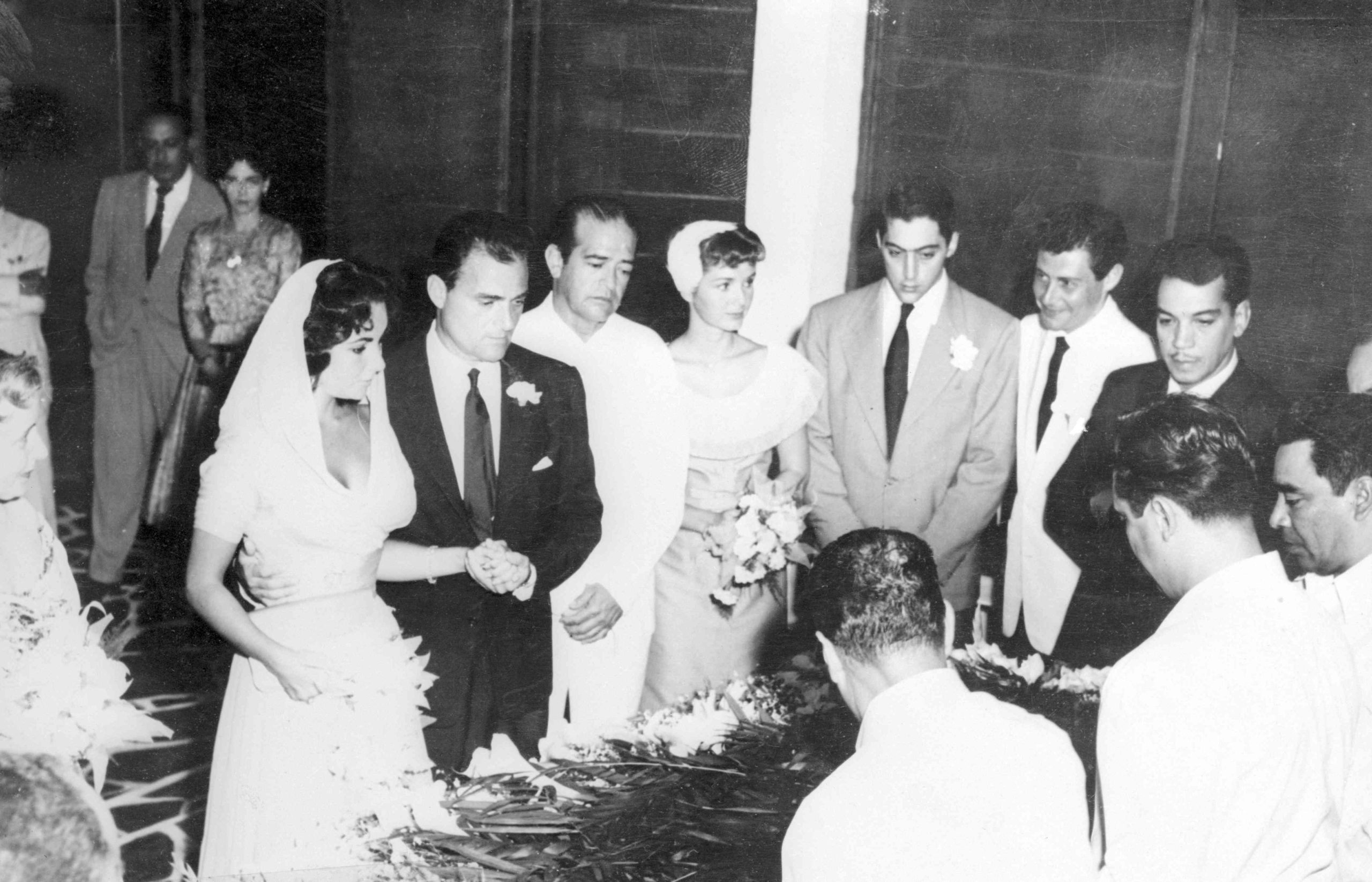 Passion Over Convention: Elizabeth Taylor's Unique Wedding Dresses
Although she was married eight times to a total of seven men, Elizabeth Taylor only walked down the aisle wearing the traditional white dress once.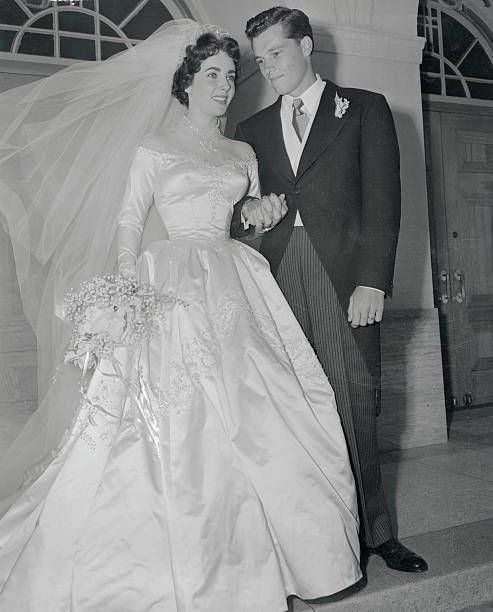 In 1950, at the young age of 18, Elizabeth married fellow Conrad "Nicky" Hilton. As the marriage was set up by MGM studio executives, Elizabeth wore an elaborate white gown with a cinched waistline, paired with an equally intricate veil and a tiara all created by costume designer Helen Rose. When her union to Hilton ended less than a year later due to his abuse, alcoholism, and a lack of love between the set-up pair, she seemed to have made an unspoken vow to herself to not handle her romances traditionally, as she saw firsthand how poorly it worked out when everything on the surface was orchestrated to be "perfect." It was the messiness of romance that Elizabeth adored, the chaos that came with loving someone deeply - and so she went on to experiment with her future wedding dresses, centering her own expression of herself and her love each time.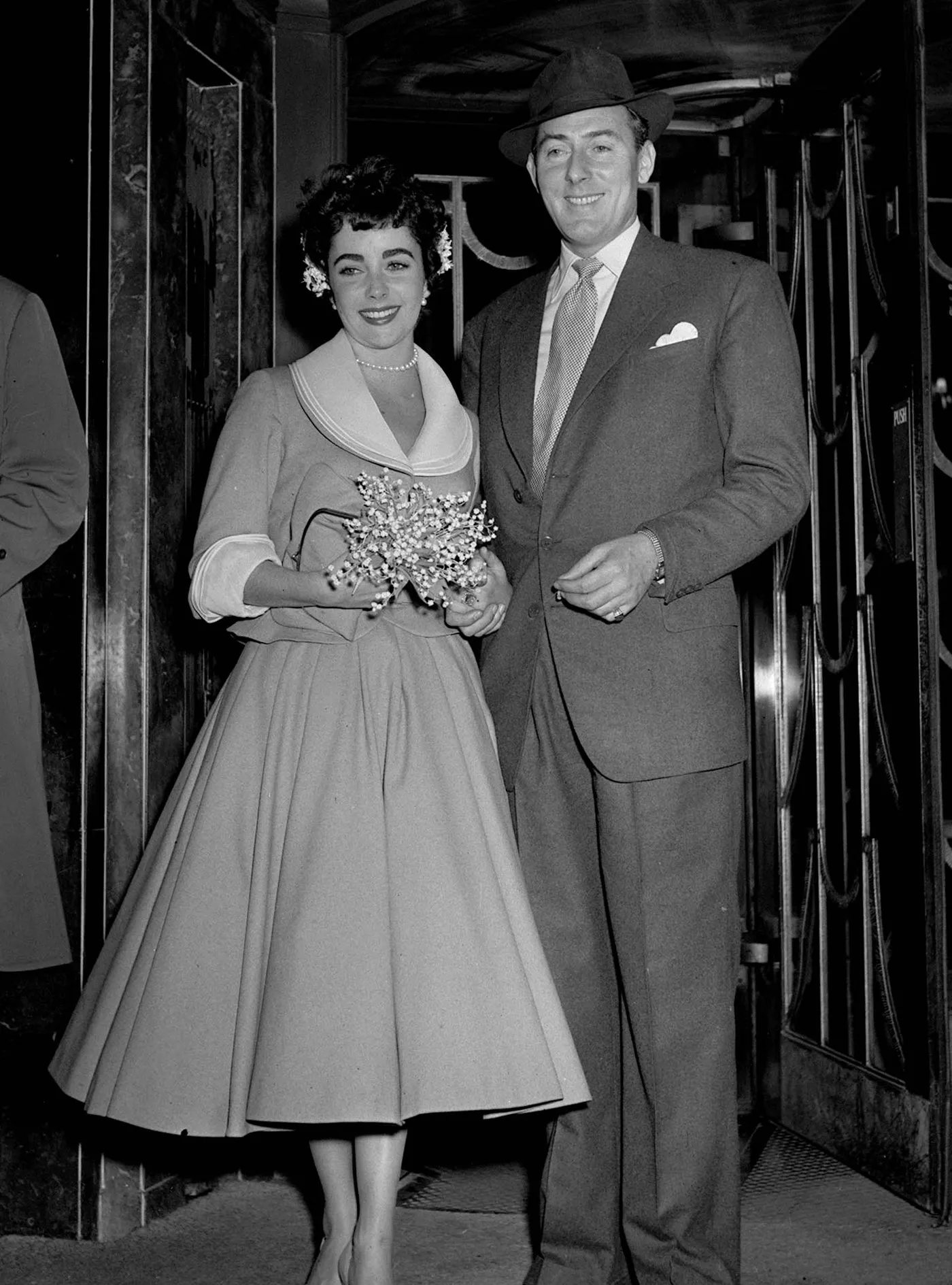 Two years after her marriage to Hilton, Elizabeth wed English actor Michael Wilding in a smart and proper collared skirt suit, matching the proper and mature energy of her new lover who was over two decades her senior. She once again turned to designer Helen Rose to design the dress, only this time she had more say in the details. Going against tradition in small steps at first, Elizabeth decided to forgo the veil, opting for a crown of flowers in her hair to match the bouquet, her poise accented with an unpretentious pearl necklace.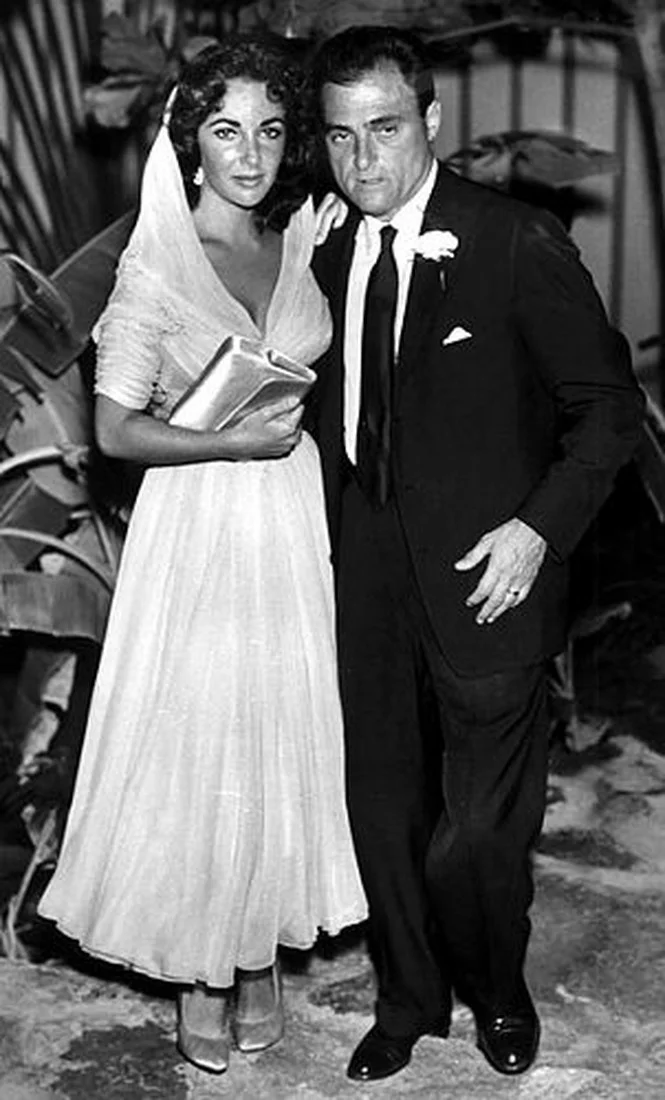 After her split from Wilding in 1957, Elizabeth fell head over heels for Producer Mike Todd and in February of 1957, they were wed in Acapulco, Mexico. As this was the third marriage for both parties, certain traditions were snipped such as a veil and a large venue full of guests. The pair exchanged vows at City Hall with their friends Eddie Fisher and his wife Debbie Reynolds in attendance. While it appears white in grayscale photos, Elizabeth wore a Hydrangea blue silk-chiffon gown, putting her own twist on a classic. The dress featured a sweeping hood that framed her face perfectly. The dress was romantic and simple, leaving room for her emerald-cut engagement ring (lovingly nicknamed "the ice rink" for its 29.4 carats) to be the focal point. Mike Todd and Elizabeth's connection was cut tragically short after Mike was killed in a plane crash in March of 1958, just six months after Elizabeth gave birth to their daughter, Liza.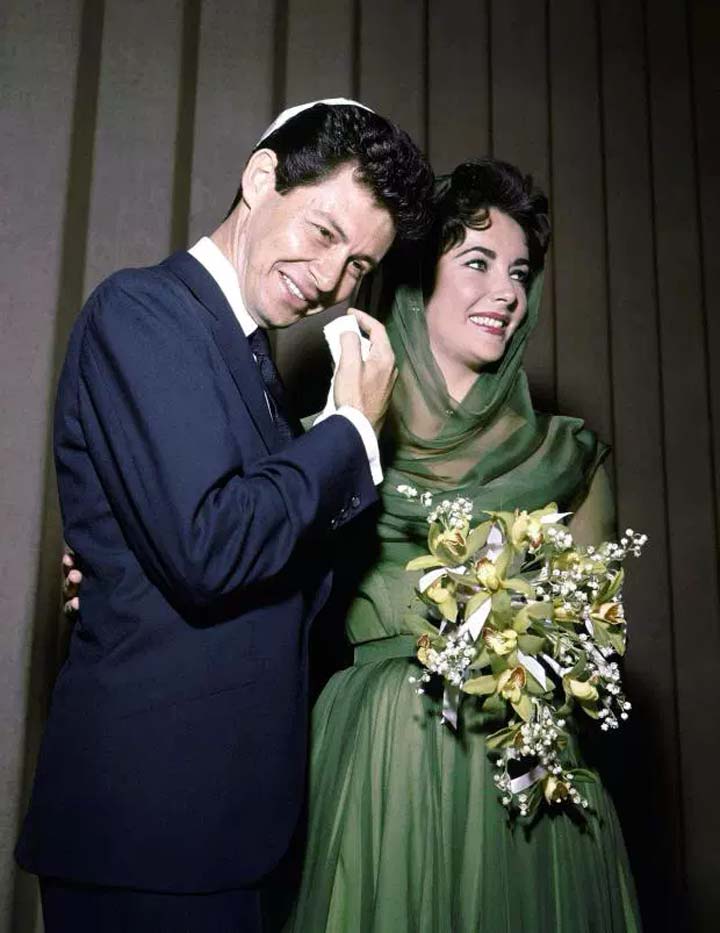 Elizabeth's subsequent marriage to Eddie Fisher, the aforementioned best friend of Mike Todd, came a year later in 1959. Both were in a state of grieving only the other could fully understand, and they began to lean on one another for support which transformed into a relationship. Although their marriage was short, Elizabeth converted to Judaism - a religion she had always felt a connection to - and married Eddie at Temple Beth Shalom in Las Vegas. She wore a deep green gown, again with a hood instead of a veil. Translucent fabric that draped around her arms and chest complimented a full coverage bodice that fitted at her waist before leading into a voluminous skirt. Her jewelry was simple, with a heart shaped diamond necklace, understated diamond earrings, and a bracelet gifted to her by Fisher in lieu of an engagement ring.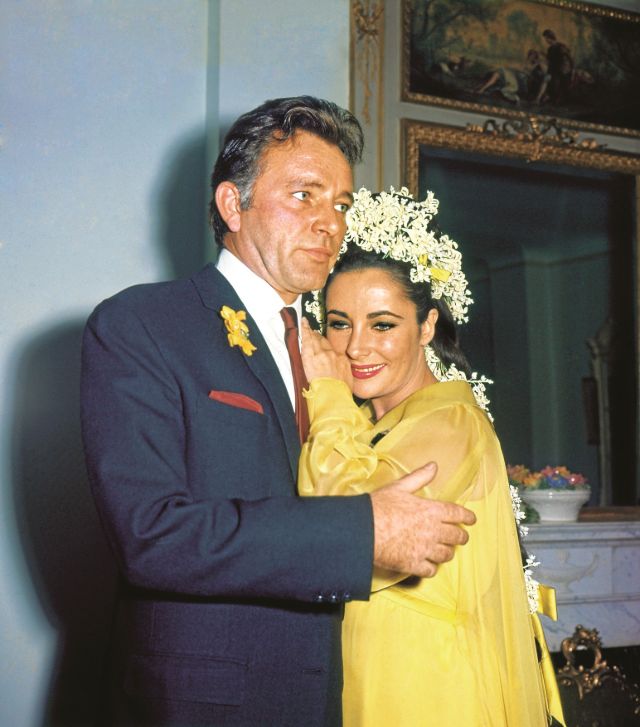 Perhaps her most iconic dress, paired with her most iconic romance, came with her first marriage to Richard Burton in 1964. The two met as co-stars on the set of Cleopatra, thus beginning their tempestuous affair and resulting divorces from their prior relationships. The two were madly in love, and were wed in March of 1964. Elizabeth donned a knee-length marigold empire waist dress designed for her by Cleopatra's costume designer, Irene Sharaff. Stylist Alexandre de Paris configured her hair into an elaborate ponytail with an white hyacinth lattice. The dress was paired with an emerald and diamond Bulgari brooch given to her by Richard as a in place of an engagement ring.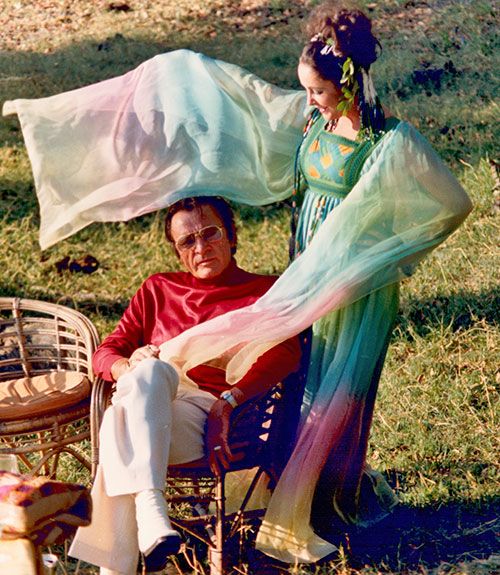 After divorcing once in 1974, Richard and Elizabeth could not stay away from one another and married again in 1975. The dress Elizabeth wore to the outdoor ceremony in Botswana was a billowing multicolor ombré gown by designer Gina Fratini. Her hair was worn in an intentionally messy up-do with bright feathers. Their second wedding was small and intimate, a true celebration of a couple finding their way back to one another. Sadly, the second marriage was shorter than the first and the couple divorced again a year later.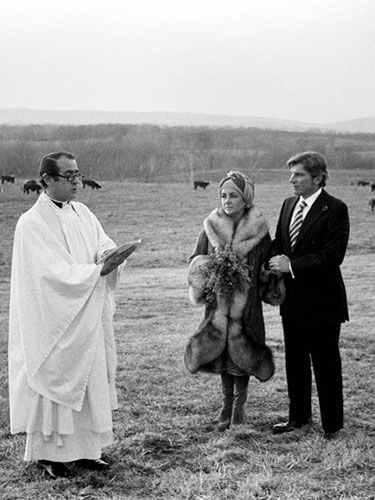 Elizabeth's most private wedding was for her following marriage to senator John Warner. Married at Warner's estate in Virginia, Elizabeth was seen wearing a matching wool and silk blend coat and turban-esque hat, coordinating with the conservative elegance of the groom's black suit and decorative tie.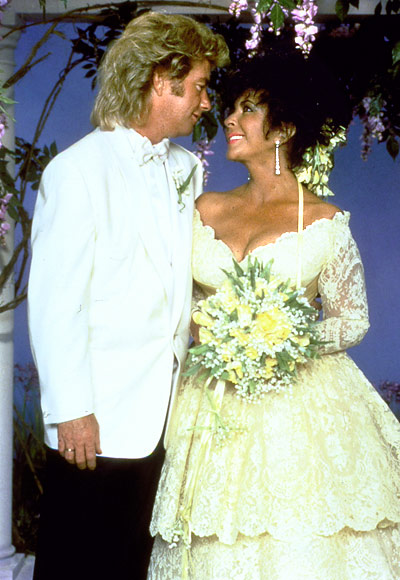 Elizbeth split from John Warner in 1982 and did not remarry until 1991 when she made her vows to Larry Fortensky. Elizabeth wore an eclectic lemon-tinted lace Valentino gown which was purposefully kept hidden from the public prior to the ceremony to build anticipation. The celebrity-studded event, hosted at Michael Jackson's Neverland Ranch, served as a backdrop for the wedding photos which were to be sold to People Magazine for $1 Million - providing the seed funding for the launch of The Elizabeth Taylor AIDS Foundation. E
Elizabeth, completely by choice, remained unwed until her passing after divorcing from Larry in 1996. While romantic love was not on the forefront of her mind at the time, she found love and passion via new avenues: in her fight for an AIDS free world, in her large family, her garden, her friends, and the small details of life she adored so much.