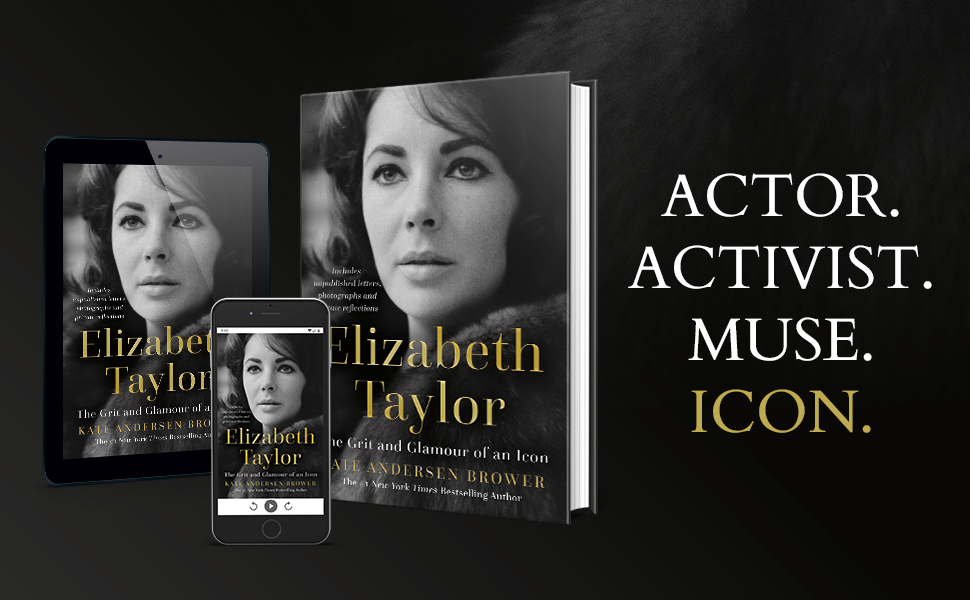 Talk of the Town: Reviews of Elizabeth Taylor's New Biography
Seen above, the international cover of "Elizabeth Taylor: The Grit & Glamour of an Icon" by author Kate Andersen Brower.
Now that the holiday season has passed and everyone has had a chance to curl up by the fire with Kate Andersen Brower's Elizabeth Taylor: The Grit and Glamour of an Icon, the reviews are in — and they're glowing. Experience this deep dive into Elizabeth's life by picking up your own copy today, and leave your own review for the world to see. Grab your copy now at Amazon, Barnes and Nobles, Bookshop.org, or at your local bookstore.
Town and Country Magazine
"The first-ever authorized biography of the late actress and philanthropist makes fine use of incredible access to Taylor's papers—including never-before-published letters and diary entries—as well as her closest friends and family members to tell a haunting, funny, charming, and truly human story about an extraordinary woman who led an incredible life."
Deadline
"What Brower found was new insight into Taylor's later-in-life emergence as an influential activist, using her star power to help push forward legislation to address HIV and AIDS and, well ahead of much of the industry, her fame to raise money to combat the epidemic and assist patients."
PBS
"It has been 12 years since legendary Oscar-winning actress Elizabeth Taylor died at the age of 79. And, for the first time, her estate granted a journalist access to the icon's private diaries, personal letters and off-the-record interview transcripts. The result is a nearly 450-page examination of Taylor's extraordinary career, advocacy efforts, complex personal life, marriages, and battle with addiction."
Kirkus Reviews
Journalist Brower draws on the capacious archives of actor and philanthropist Elizabeth Taylor (1932-2011)—7,358 letters, diary entries, articles, and personal notes and 10,271 photographs—as well as interviews with her friends and family, to produce an appreciative biography of the iconic celebrity."
But don't just take their word for it… check out what others are saying in The Washington Post, The Library Journal, and from readers worldwide on Goodreads and Amazon.